PROFESSIONAL TV MOUNTING SERVICE TORONTO
Top Rated TV installation company in Toronto
We are a trusted provider of expert TV wall mount installation services for residential and commercial clients in the Greater Toronto Area.
We have been actively involved in TV wall mounting and installation for close to a decade; hence we know what works best with your equipment. We pride ourselves as Toronto's foremost installation services company, providing high quality services at affordable prices. Our team is highly trained and experienced so that they can provide you with an excellent installation from start to finish. 
We offer free estimates and no obligation quotes. Our prices are competitive and we provide an amazing experience with our customer service. Ultimately, we care about our customers, because we want them to have a unique viewing experience and enjoy their entertainment system as much as possible.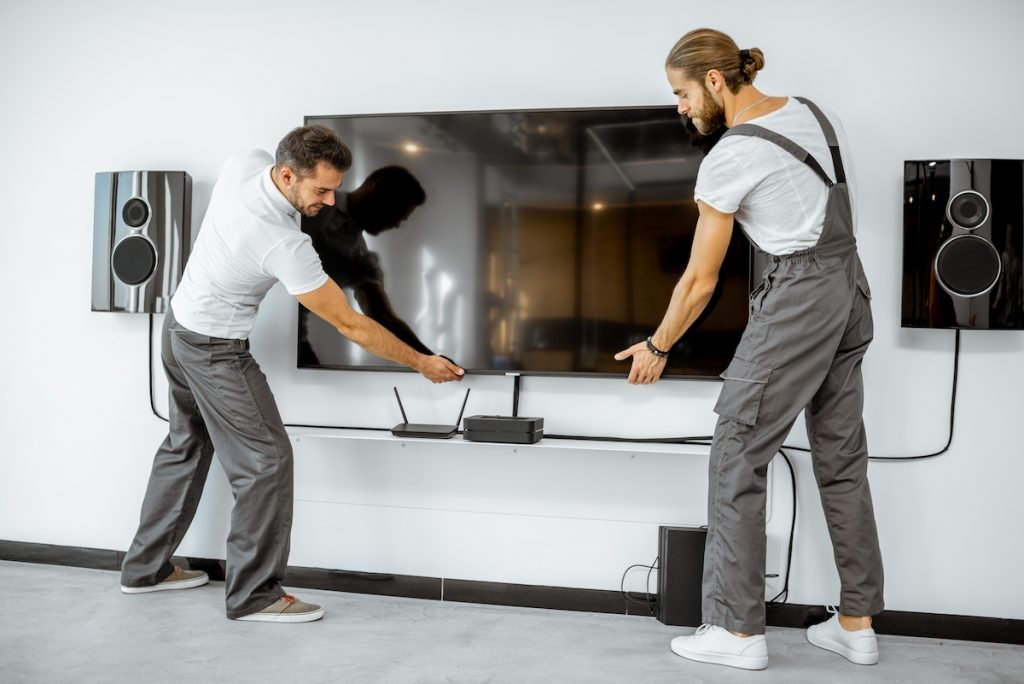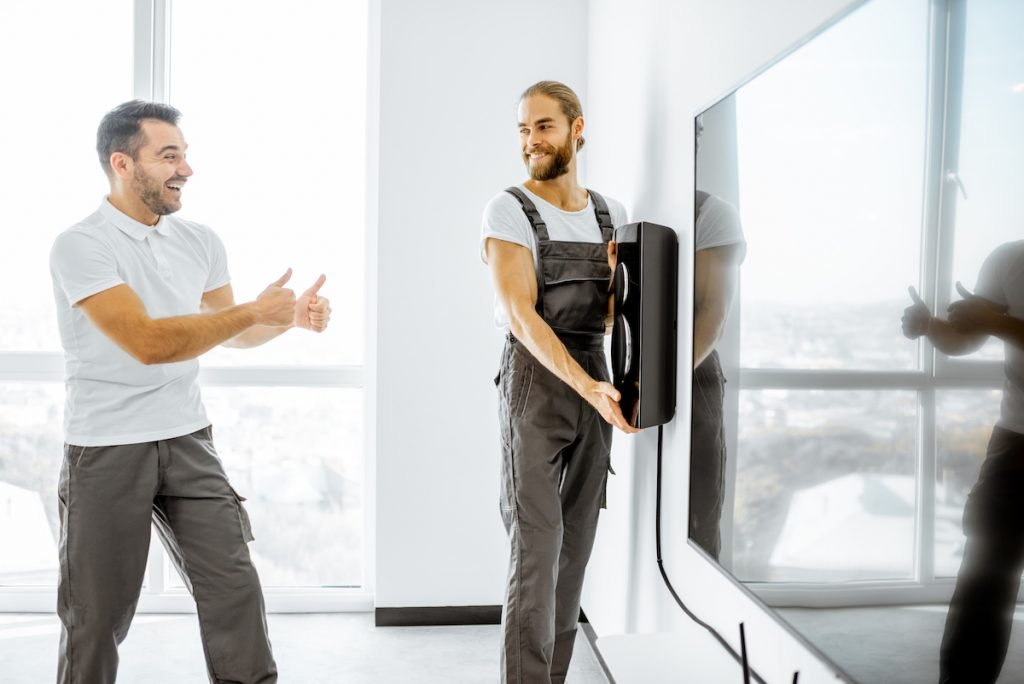 Projectors are not just random larger screens; they're in fact an essential part of any home or office. It elevates viewing and presentation experience, making it possible for you to view data and images in a way you never thought possible.
Looking to install a projector in your home, office, training room, reception area, or classrooms? Our expert technicians are not only on ground to offer professional services, they will go the extra mile of providing you with a perfect mount for your ultimate viewing results.
Mounting your monitors requires more technical approach involving an understanding of the type of mount and the mounting hardware. Before getting started, one may need to consider the approximate size of the monitor in relation to the desired place of mount.
With years of expertise behind us, our set up team have perfected the art of mounting monitors securely while maintaining a balance of flexibility. From monitor installation to full-motion mount, we've got you covered!
A video wall is one of the most effective ways to present information visually. It allows you to display a wide range of pictures simultaneously, which makes it ideal for use in business settings where there may be many people looking at different things at once. 
A video wall also offers many advantages over traditional plasma flat screen TVs. It's large display for advertisements and usage in an entertainment center is unrivaled. You may be wondering whether a video wall would be worth investing into, the answer is yes and our team will get you the perfect spot for this installation as well as other installation processes.
Smartboards are great tools for schools, companies and other organizations. They are versatile and designed with software that enables users to navigate the screen by merely touching the surface. They have been proven to improve student engagement in class and increase overall organizational productivity.
There are several types of smart boards available today, with each model having its own features, functionality and price ranges. We can help you select the right smartboard for your needs. Our setup team understands every aspect of installation with smartboards. They will install them for you easily and additionally add anti-tip devices which will enhance its durability. 
We offer the best professional TV wall mounting and installation services in Toronto. There may be a wide range of reasons why a person may opt for a wall-mounted TV. One popular reason for getting this wall mount will be to enjoy the maximum viewing experience.
At GT wall mounting we ensure that you have an excellent installation and that all your connections are working.  You can trust us with all your installation services. We deliver a high quality job at reasonable prices. Most importantly all our installations are VESA compliant; no such things as a tilt angle issue.
Professional Wire Concealment
We offer advanced features of invisible wire concealment to help keep your home office organized and clutter free. These concealment solutions utilizes a cable hider to allow cables through hidden channels or under furniture without being seen. This helps create a clean look and feel throughout your home or office space. 
Irrespective of your tight budget, our experienced technicians still provide expert service when installing invisible wire concealing systems. Our services include everything from simple plastic tie wraps to high-tech cable box management systems and even cold steel construction. We also carry a wide selection of power strips, surge protectors, and other accessories to make your life easier.
Structured Low Voltage Cabling
Wall mounts and other digital gadgets consume lots of energy. To reduce energy consumption and the loading capacity of your accessories, there is a need to upgrade to a high performance low voltage cabling.
We avail you with a low voltage cabling system that provides a safe way to hang any type of light fixture without any adjustment after installation. The wiring harnesses come preassembled and ready to go so they don't require additional work after hanging. All you need to do is plug them together using standard connectors.
Our experts understand installation instructions and how important safety is during the process of hanging anything on walls. That's why we use only certified professionals who know exactly what they're doing. When you hire us, you'll receive a written guarantee that covers both labor, materials and liability insurance. If there is ever a problem, just call us and we'll take care of it immediately.
We use only premium materials such as aluminum extrusions, steel plates, stainless steel screws etc. These materials help reduce the weight capacity, increase durability and introduce a balance of flexibility. All these factors contribute towards making our services highly reliable and long lasting.
Call Now For Same-Day Service. Fully Qualified & Insured
A quality TV mount can be used in any part of the house even on a concrete wall. It should be easy to install and remove. Additionally it should not have a tilt feature, just as it should be able to withstand heavy loads and vibrations. 
The convenience of watching movies and shows on a well hung TV with great picture quality is part of reasons why one will consider a TV mount. Another reason why you should get a TV mount is because it provides an easy access to all other TV components such as remote controls, cables, etc. With that you need not worry about them getting lost.
How much does it cost to install a TV mount?
The price depends on several factors including size, location, number of TVs, and whether you choose a DIY kit or professional and excellent installation. Whether you're looking for an inexpensive way due to tight budget, getting a VESA compliant mount is necessary. On the average this can cost between $50-$100.
Can you mount a TV on any wall?
Yes! You can install a TV anywhere on the walls provided that the area used is sufficient enough to support its weight. You can choose to have a full-motion TV wall mount or a fixed TV wall mount. We're available to recommend the ideal option to you based on your needs and budget.
Does wall mounting damage TV?
No! A properly installed TV wall mount does not cause any damage to the TV. In fact, it's quite the opposite. It helps protect the TV from being damaged by moving furniture around.
Same Day TV Wall Mount Installation Near Me
Top Rated TV installation company in Toronto and the GTA